About Us
Welcome to the Arizona Early Childhood Career and Professional Development Network!

The Arizona Early Childhood Career and Professional Development Network (Network) is an integrated early childhood professional development system for all Arizona early childhood professionals working with and on behalf of young children. Exhibit 1 shows a picture of the Network components that are described below:

The Professional Development website which provides the early childhood workforce access to a variety of professional development resources including competencies and standards, education pathways and opportunities, career pathways, employment opportunities, and the Arizona Early Childhood Workforce Registry;


The Arizona Early Childhood Workforce Registry (Registry) is a web-based system that enables early childhood professionals and those interested in a career in early education to find and register for professional development opportunities and also to keep a record of their experience, education, professional development and credentials in a central location. It is also used to manage application and enrollment in First Things First College Scholarships for Early Childhood Professionals.


The Arizona Early Childhood Workforce Knowledge and Competencies is a uniform set of expectations that identify the basic knowledge, skills, and abilities needed for early childhood professionals across sectors of early childhood including, early care and education, early intervention, mental health, physical health and social services/child welfare professionals. They ensure implementation of quality services for young children and their families. Download PDF Here.


The Arizona Career Lattice is a tool within the Registry that provides the pathway of education, professional development, and work experience for early childhood professionals to use for individualized assessment, setting professional development goals, and documentation of progress in career development.


The Professional Development Instructor and Technical Assistance Provider Standards define the credentials, knowledge and experience necessary to ensure high quality professional development experiences for our workforce from entry through advanced levels.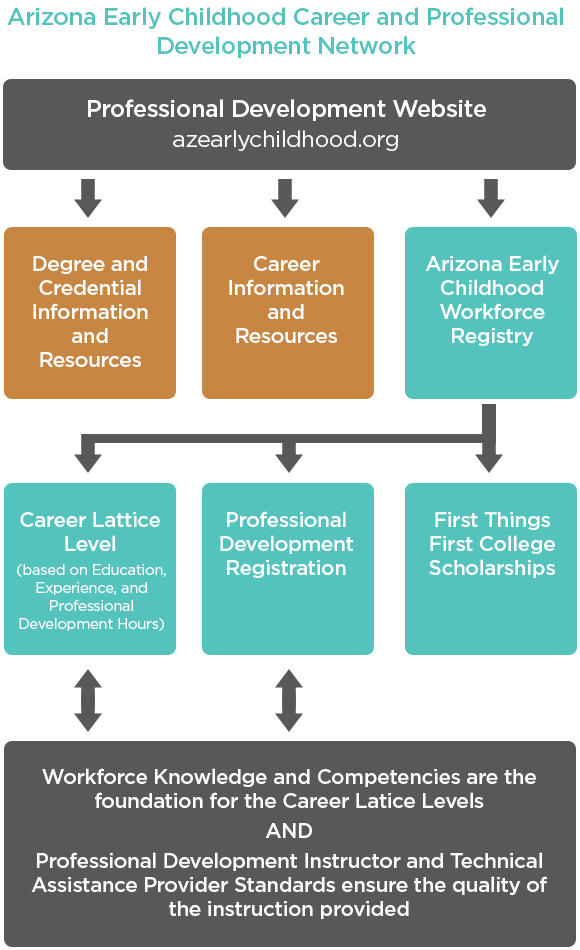 The components of Arizona's Early Childhood Career and Professional Development Network (Network) lay the foundation for an integrated EC professional development system and align with NAEYC's recommended policy areas . Integrated policies intentionally promote the building and support of an efficient cross-sector system that decreases duplication of efforts and increases accountability and sustainability. An integrated system helps develop and retain a competent and stable early childhood workforce - a skilled cadre of effective, diverse, and adequately compensated professionals. Over the next several years, the BUILD Arizona Professional Development Workgroup (PDWG), staffed by First Things First, will continue to strengthen and support this system. Click here to learn more about the initiatives of the PDWG.