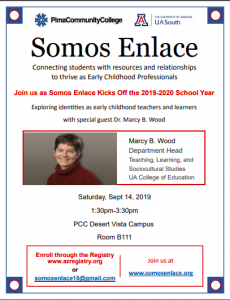 Join us as Somos Enlace kicks off the 2019-2020 school year with special guest Dr. Marcy B. Wood, Department Head of Teaching, Learning, and Sociocultural Studies at UA College of Education.
Pima Community College, Desert Vista Campus
5901 S. Calle Santa Cruz, Tucson, AZ 85709
Pueblo Building, Room B111
Enroll through the Registry www.azregistry.org or somosenlace10@gmail.com.
Somos Enlace connects students with resources and relationships to thrive as Early Childhood Professionals. Learn more at www.somosenlace.org.