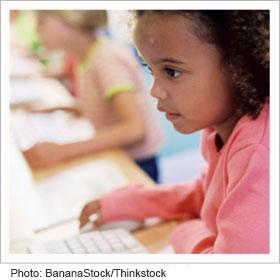 iPads will never replace the smell of freshly peeled crayons, but they can offer children a new way to create, complete with such features that might include using a camera, microphone or an "undo" option that encourages experimentation.
Bubl Draw, Bubl www.bublbubl.com, ($.99 on iPad (37MB) Good for home or school. for ages 1-7.
Why we like it: High in child control, this musical scratch pad turns random taps into bursts of colors, music and sounds. There's enough variety in the musical and artistic styles to make you want to keep exploring, even as an adult, and it gives young children a chance to "scribble" on a multi-touch screen. Using a simple tool palette on screen bottom, children choose a color, and touch to make any line or a doodle. Comparisons to traditional drawing activities end at this point. If you touch your line a second time, it comes to life with musical effects; another set of controls lets you swap between musical genres.
Need to know: Things happen randomly and fast, so it's easy to quickly clutter the screen. Fortunately, erasing and starting over is a simple process, and you don't have to worry about saving work.
Pinsaic, ($.99 on iPad ), for ages 4-up. Good for home or school.
Why we like it: Sometimes a constraint makes you more creative. Pinsaic — is an app that turns your iPad screen into a pegboard, letting you create just about anything, as long as it fits on a 22 by 33 dot grid. To fill in one of the dots, you tap a dot. This places a pin, which can be different sizes and shapes. The 22 by 33 grid offers plenty of room (we used a regular sized iPad).
Need to know: Don't miss the symmetry options, which are easy to overlook on the main menu. Work can be saved in your photo album on social media, although there is an age-gate.
Draw and Tell HD, Duck Duck Moose Design, ($1.99 on iPad, Android), for ages 2-12. Good for home or school.
Why we like it: The title says it all with this exciting new creativity app for young children –the first to successfully mix a full featured drawing program with narration, by way of the iPad's microphone. Now you can think of your iPad or iPhone as a drawing/flannel board and story telling machine. The drawing is just one part of what this app does well. It is paired with a narration feature that makes it easy to do a "color commentary" on the picture you just made. The end result is a powerful language experience. After you finish your picture, you tap a microphone, and are told to "record your voice — 3-2-1-Go!" As a recording light flashes, you can describe your work.
Need to know: The process for this app is very different than apps like Doodlecast, where you redraw your picture and talk in real time. Doodlecast has an innovative highlighter that is layered over your drawing, letting you highlight features as you talk, a nice touch.
Music
From making and sharing music with modified synthesizers, to learning skills such as notation, music apps are easy to find.
BeBop Blox, Originator www.originatorkids.com, ($1.99 on iPad, iPhone (48 MB), for ages 3-7. Good for home or school.
Why we like it: Twelve musical shape puzzles make up this playful drag-and-drop building challenge, one shape at a time. Made by Originator, makers of Endless Alphabet (formerly known as Calloway).
Need to know: The blocks can be noisy. But, the ways in which the blocks are presented one at a time add a nice element of structure to screen-based puzzle play.
StoryBots Tap & Sing, (Free with in-app sales for on iPad, iPhone) , for ages 2-8. Video: http://youtu.be/yoBO6nfQDXU. Good for home or school.
Why we like it: Well designed and responsive, this is a living xylophone has with keys that can teach you songs. A different character represents each note on the two-octave scale and you can toggle between four voices.
Need to know: You get three songs (Mary Had a Little Lamb, This Old Man and Row Row Row Your Boat). For more interesting songs, you need to subscribe for $4.99/month – sold as an in-app sale, a process that is not well designed. If a child knows your password, an accidental subscription could be activated.