This feature of the Arizona Early Childhood Workforce Registry will give Program Administrators and Multi-site
Administrators the ability to list data and upload documents that are relevant to DHS Licensing.

Note

: only Program
Administrators of DHS Licensed programs will see these tools.
1. Log into the Arizona Early Childhood Registry at www.azregistry.org.
2. Click on Program Administration.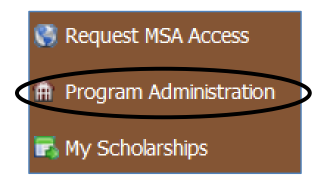 3. Click on Childcare Licensing Dashboard near the bottom of your function list.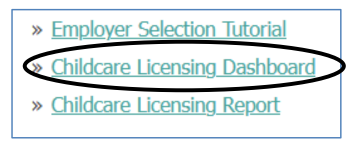 4. A list of the staff who have aligned themselves to your program will appear with options to update and upload various required DHS Licensing information.

It is recommended that the person responsible for updating this information has the following ready and available: Fingerprint Clearance Card, Background Check information, Criminal History information, CPR, Food Handler, Food Manager information, H.S. Diploma/GED or Transcripts, 10 Day Orientation Training information, TB Test and References.
1. Next to the Fingerprint option, click on Update.

2. You now have the option to list the Fingerprint Card number, Expiration Date, DPS Contacted Date, and you can upload a file of the Front of Card and Back of Card. When complete, click the Save button.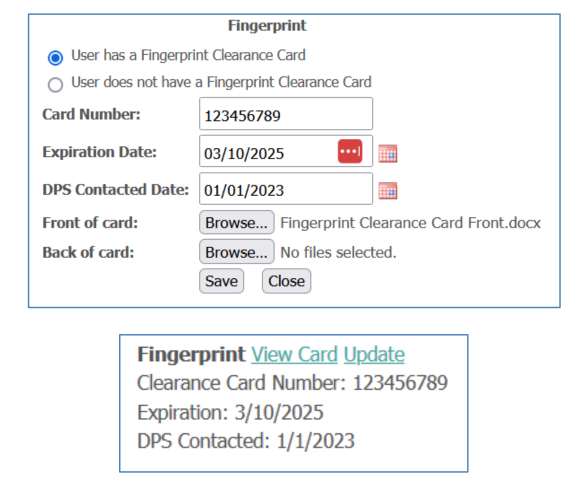 1. Next to the Certifications option, click Add a Cert. To learn more about this area, hover your mouse over the question mark image.

2. You may add information for Pediatric First Aid, Pediatric CPR, Food Manager and Food Handler. If you have more than one to update, you will have to select one at a time.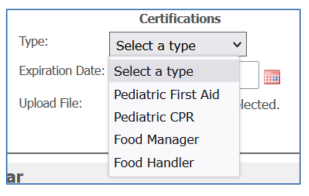 3. Select a certification type, fill in the expiration date and upload a file of the specific document. Click Save.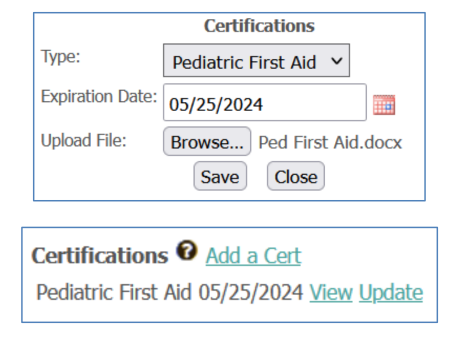 1. Next to TB Test, click Update.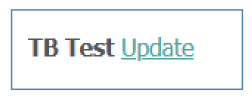 2. In this area, fill in the Most Recent Given Date and the Most Recent Read Date. Add a Result. Click Save.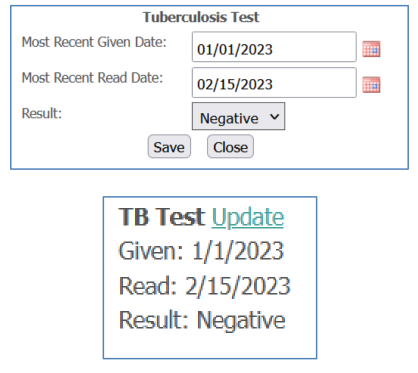 1. In this area you may update your staff person's Background Check information by adding a completion date, and you may update the Criminal History by checking a box stating you have received the Criminal History form, and you have a copy on file.

10 Day Orientation Training

1. Next to 10 Day Orientation Training, click Update to check a box stating you have received the staff person's 10 day orientation form. You also have the function of uploading the form.

2. Check the box showing that you have received the 10 Day Orientation form, and browse for the specific document. Click Save.

1. Next to HS Diploma/GED, click Update to add diploma/GED information and upload a copy of the diploma/GED.

2. Select either HS Diploma or GED, type in the School/Institution information, Award Date and then browse for and upload a file of the Diploma. Click Save.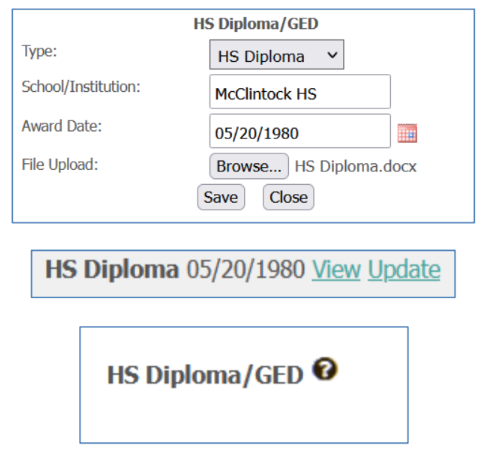 If the Update link is not showing next to the HS Diploma/GED function, that means the Registry User has already uploaded their HS Diploma/GED into their Registry Profile. DHS Licensing will be able to see this in the user's Registry Profile.
1. This area gives the program director a place to list up to two references, the contact date and the result of the attempted contact, either confirmed or attempted. Click Update next to Reference 1 and Reference 2. Click Save after adding the information.

You may go through the above processes for each staff member aligned to your program. DHS Licensing will have the ability to view this information prior to visiting your site.