CSCCE Announces Commitment to Action at the 2014 Clinton Global Initiative America (CGI America) Meeting
On June 25th, the Center for the Study of Child Care Employment (CSCCE) announced our Commitment to Action, Assessing What Teachers Need to Help Children Succeed, at the Clinton Global Initiative (CGI) America Meeting. This represents a two-year commitment to expand the use of, and scale up our online tool, Supportive Environmental Quality Underlying Adult Learning (SEQUAL) and accompanying services and training resources.
SEQUAL plays a critical role in informing quality improvement strategies as it gathers teaching staff perspectives about quality improvement by addressing five critical areas of teachers' learning environments: teaching supports, learning opportunities, policies and practices that support teaching staff initiative and teamwork, adult well-being, and how supervisors interact with staff to support their teaching practice. Just as children's environments can support or impede their learning, work environments promote or hinder teachers' practice and ongoing skill development.
Contact us to find out more about SEQUAL and how you can be a partner in this Commitment to Action, cscceinfo@berkeely.edu.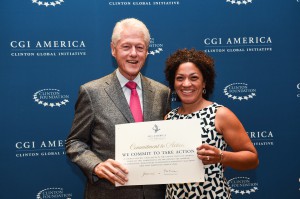 About the Clinton Global Initiative
Established in 2005 by President Bill Clinton, the Clinton Global Initiative (CGI), an initiative of the Clinton Foundation, convenes global leaders to create and implement innovative solutions to the world's most pressing challenges. CGI Annual Meetings have brought together more than 180 heads of state, 20 Nobel Prize laureates, and hundreds of leading CEOs, heads of foundations and NGOs, major philanthropists, and members of the media. To date, members of the CGI community have made more than 2,900 commitments, which are already improving the lives of more than 430 million people in over 180 countries.
CGI also convenes CGI America, a meeting focused on collaborative solutions to economic recovery in the United States, and CGI University (CGI U), which brings together undergraduate and graduate students to address pressing challenges in their community or around the world. For more information, visit clintonglobalinitiative.org and follow us on Twitter @ClintonGlobal and Facebook at facebook.com/clintonglobalinitiative.
About CGI America
Established in June 2011 by President Bill Clinton, the Clinton Global Initiative America (CGI America)—an initiative of the Bill, Hillary & Chelsea Clinton Foundation—addresses economic recovery in the United States. CGI America brings together leaders in business, government, and civil society to generate and implement commitments to create jobs, stimulate economic growth, foster innovation, and support workforce development in the United States. Since the first meeting in 2011, CGI America participants have made more than 300 commitments valued at more than $15.3 billion when fully funded and implemented. To learn more, visit cgiamerica.org.