A deep dive on what makes us feel like we belong, the importance of reciprocity, and how creative disciplines can be leveraged inside and outside the classroom. Ms. Nyoka will identify challenges in creating spaces of belonging and explore best practices for navigating multi-cultural environments as an arts educator and programmer. There will be opportunities for discussion as well as helpful resources for inclusive educational content.
Thursday, August 24, 2023
12:00pm – 1:00pm (EST)
Join: https://us02web.zoom.us/j/81279032179
Please send your questions for our speaker to nbooker@earlycareandlearning.org.
Wi-Moto Nyoka
Founder of Dusky Projects
Award Winning Speculative Fiction Writer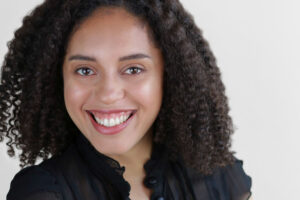 Wi-Moto Nyoka, 
is an award winning Speculative Fiction writer. She is the founder of Dusky Projects, creating and producing horror & sci-fi projects for young adult and adult audiences. As an educator she collaborates with a variety of organizations to build multicultural learning environments. Through the use of Speculative Fiction and creative disciplines such as music, film, and performance, Ms. Nyoka designs and implements family friendly curriculum and programming to address literacy, creative problem solving, and the importance of youth advocacy. She is a published author, holds a BFA in Music Theater from the University of the Arts, and an MFA for Performance & Interactive Media Arts from Brooklyn College.
The opinions expressed during the Learning Café are solely those of the guest speaker and are not the view of the Early Care & Learning Council.