The month of November, the Diné Studies Conference, Inc. honors new works from authors writing about our Diné people. When you register you will also be automatically entered to win a copy of the book from the authors. Co-sponsored with University of New Mexico's Native American Studies Department. Register here!
Miranda Haskie (Co-Editor), The Future of Navajo Education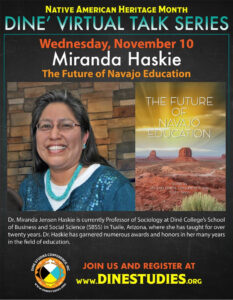 As our schools struggle to return to normal operations in the wake of the pandemic, one issue is often forgotten: the challenges facing educational institutions at Native Nations. These Nations face unique obstacles, including limited access to the Internet, let alone broadband; scarcity of electricity or running water; and the need to preserve and foster their unique language and cultural values. These challenges have inspired a new book, The Future of Navajo Education, which offers a number of case studies illustrating efforts by the Navajo Nation to boost the career prospects of their students. Some of these academic programs feature a focus on organizational change while living in harmony with the natural world and the universe. Others emphasize social responsibility and community service, in accordance with the philosophy of Navajo culture. The volume includes contributions by prominent Navajo leaders and scholars, including Navajo Nation President Jonathan Nez; Dr. Manley Begay, Professor of Applied Indigenous Studies at Northern Arizona University; Dr. Henry Fowler, Associate Professor of Mathematics at Navajo Technical University; The Honorable Robert Yazzie, Chief Justice Emeritus of the Navajo Nation; and Dr. Miranda Haskie, Professor of Sociology at Diné College in Tsaile, AZ. The book is an outflow of a number of Navajo Education Conferences at Window Rock, AZ, co-sponsored by Fielding Graduate University in collaboration with the Navajo Nation.