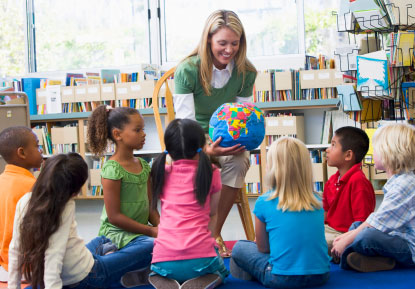 Due to the definite rise in the numbers of children now attending preschool and nursery programs in the U.S., there are currently more high paying early childhood education jobs available. With input from the media, government officials, colleges and university education departments and early childhood educational organizations, awareness of the necessity of educating children beginning during infancy and toddler years is growing rapidly.
Featured Accredited Early Childhood Programs
Fortunately, this occurrence has both developed and enhanced the quality and extent of educational programs open to such young children. In addition, it has caused impressive growth in the number and variety of employment positions within the work area of early childhood education.

Highest Paying Positions for Early Childhood Education Applicants with a Bachelor's Degree
Although salaries differ in states around the country for early childhood education positions, general pay rate averages reveal a helpful overview. Average top salaries are offered across all states for child educators holding Bachelor's degrees in education in such jobs as:
1. Early Childhood Education Specialist – This preschool instructional and counseling position pays an average salary of $35,000 per year. The beginning annual pay rate is $30,000 with the potential for an increase to $40,000.
2. Day Care Director for Preschool Program – Applicants with a Bachelor's degree in childhood education may apply for this position now paying $39,200 per year.
3. Preschool and Nursery Center Director – An applicant with a Bachelor's degree in early childhood education qualities for this position at an annual salary of $42,960. The starting salary for this job is $27,210 with potential increase of up to $85,110 based on length of employment and additional advanced degree training.
Top Salaries for Early Childhood Education Job Applicants with Master's Degrees
1. Grant Writer for Foundation (entry level) – This job is being offered to early childhood education specialists holding a Master's degree. The starting annual salary is $42,810 with the potential for advancement based on years of service and extent of achievement in this position.
2. Director of Educational Program, Private School with Preschool Division – A Master's degree in early childhood education plus teaching or supervisory experience is required for job applicants seeking this position. The beginning salary is $60,000 per year with a potential pay increase of up to $100,000 contingent on advanced degree training and cumulative years of service.
3. Early Childhood Special Education Teacher – This special education teaching position pays $77,000 annually with potential for advancement up to $95,000. The job requires education and experience in teaching general and specialized curricula along with art or music related instruction designed for special education students.
4. Early Childhood Educator for Public Charter School – This position requiring a Master's degree in education offers a yearly salary of $82,000. Students are from varied backgrounds with different levels of scholastic achievement. Salary advancement up to $100,000 is possible.
Best Paying Jobs for Applicants with Doctorate Degrees in Early Childhood Education
1. Childcare Center Director in Elementary School – This position requires a Ph.D. in the field of early childhood education. The beginning annual salary is $89,000 with potential advancement up to $175,000 according to years and quality of service. Directors as this level will have interaction with local, state, federal and organizational officials on a regular basis.
2. Director of Educational Programming, Private Preschool Center – Applicants for this early childhood education position must have a Ph.D. with emphasis on educational programming and evaluation methods. The starting yearly salary is $90,000 with potential for steady advancement to upwards of $190,000.
3. Preschool Admissions Coach – This position allows for hourly fees to be charged by the admissions coach. For example, the fee for a phone consultation with parents starts at $150 per hour. A private meeting with parents will cost them $250 per hour. In addition, the price of a 2-hour workshop for small groups of parents is $400 per couple or single parent, charged as a flat fee. The objective of the admissions coach is to succeed in gaining admission for toddlers to nursery school.
Future Outlook for Early Childhood Education Professionals
As you can see, there is quite a wide variety among salary rates for different types of employment positions within the early childhood education area. There is also a current need for many new applicants in this field of educational work. According to The Bureau of Labor Statistics, there has been an increase of at least 43% in the numbers of new preschool students over the last 20 years in the U.S. This has, of course, led to greater demand for teachers, counselors, specialists and administrators. By the year 2019, job availability for childhood educators is expected to rise by approximately 18%, the largest predicted increase in any area of education. As more and more parents understand and appreciate the value of enrolling their children in nursery, day care, preschool and special interest educational programs, this percentage is likely to continue increasing on an annual basis.
This job availability offers much encouragement to graduates of various degree programs in the early childhood education field as well as to young students in education now deciding on their major focus of study. Starting salary rates are increasing steadily with the overall average of good jobs at the entry level paying around $85,000 to $90,000 for many positions. Advancements in both salary rate and job level status often occur fairly rapidly, too, due to the continuous efforts of educational research and planning experts to raise child educational achievement bars to meet the ever-increasing extent of new information and training methods available.
Graduating college and university students with Doctorate of Philosophy degrees in early childhood education have myriad possibilities for very rewarding and lucrative professional employment in the field. Along with the wide variety of top-level administrative, counseling and teaching positions available to them, there are numerous jobs at high pay rates within educational research and development organizations, foundations, governmental agencies, and college and university departments. At the same time, graduates with Master's and Bachelor's degrees can easily acquire jobs as teachers, counselors, special training experts, and in early educational management.
It is truly encouraging and heartwarming to realize this current upward rise in good employment is available for well qualified early childhood education professionals in the United States. It is a vital and innovative area of today's educated workforce that should continue to grow, flourish and expand even more within the coming decades.