Newly updated FREE app for teachers, parents, and caregivers: CDC's Milestone Tracker.
As an early care and education provider, you know the importance of tracking children's developmental milestones, but did you know there's a new version of the FREE app from the Centers for Disease Control and Prevention (CDC) to help make it easy, fun, and a great way to engage parents and caregivers? CDC's Milestone Tracker app helps teachers, parents, and caregivers better understand each child's skills and abilities, track and celebrate developmental milestones, and share developmental progress from ages 2 months through 5 years.
The app offers:
Parent-friendly, interactive developmental milestone checklists adapted from the American Academy of Pediatrics; 
The ability to complete a checklist using corrected age for children born prematurely;
Photos and videos to help parents recognize milestones;
Tips and activities for supporting early development and sharing concerns;
The option to complete a checklist in English or Spanish;
Appointment and developmental screening reminders; and
The ability to see a summary of a child's developmental progress in English or Spanish.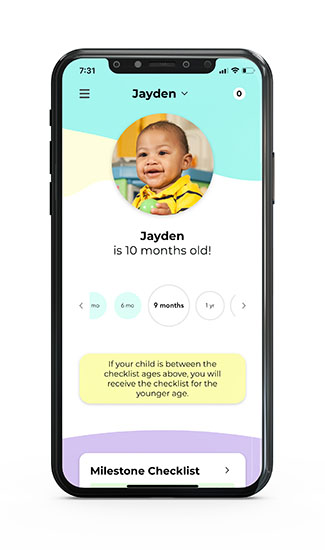 Help parents and caregivers understand, support, and celebrate their child's developmental milestones, and know when to act early if you have concerns. Access a printable poster (8.5" x 11") for your classroom or center, a web button for your website, and more at www.cdc.gov/MilestoneTracker.